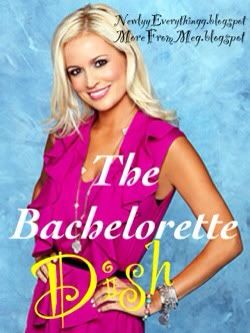 I know I promised the mother-of-all weekend recaps today, but I couldn't resist linking up with
More from Meg
for the Bachelorette Dish link-up! I am seriously obsessed with Emily and love watching every week no matter how cheesy the show gets! Here are some of my thoughts, so grab a button and join the gossip sesh :)
* I think it's really awesome that they are filming the season in Emily's hometown. I think having friends and family close by will really help her stay happy and focused, without stressing about what's happening at home!
* So happy Ryan got a date! He's my number 1 so far. I don't want to spoil anything but I think what they did for their date was AMAZING. I really get the sense that she is doing this completely seriously, and isn't going to waste time and flashy dates that aren't realistic. It makes me love her even more! And the surprise at the end? All I can say is...I would pass out right then and there!
* My heart really went out to Charlie with his insecurities and I love how graciously Emily handled the situation!
* Why is Emily so adorable all the time? I seriously do strive to be like her. She is stunning, a great mother, and so poised all of the time. I need to try to improve in all of those areas! The group date could have easily been super awkward, but with Emily it was just adorable! I wish they had shown the guys participating (so hard to be vague in this post) more because I bet it would have been awkwardly amazing.
* Emily and Ricki. AH. I die.
* I feel like there is less cat fighting when it's a house full of guys and I love that. I know it's what draws viewers in, but I just like focusing on the positive side!
* I WOULD DO ANYTHING FOR EMILY'S GOLD DRESS. That is all.
* Does anyone else think Doug got a little too defensive about Kalon's "putting being a dad on hold" comment? I am personally a Doug fan, but I genuinely don't think Kalon meant the comment how Doug took it (if that makes any sense!). I think the producers just wanted to add some drama, but I hate seeing guys I'm rooting for get angry!
* It is really a Bachelor/Bachelorette pet peeve when people with roses take cocktail party time! It's just not very considerate in my opinion.
* I would never have thought to wear green earrings with a purple dress, but per usual Emily looked flawless.
* I really hope next week has more dates like Doug's. I love watching the contestants in realistic situations, it gives me more hope that it might actually work!!
*Ummm Dolly AND Luke?! My heart is pounding just thinking about it! It looks like next week is going to be insane!
Who are your favorites so far? I'd love to hear what you think!