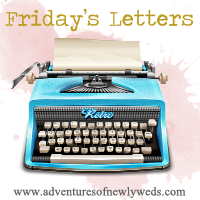 Dear Readers:
Thank you so much for putting up with me this week. I have basically failed as a blogger, but life got crazy. Not to mention my iphoto is down and I haven't been able to sit and figure out how to fix it/find a new way to upload pictures! However, it's been kind of nice to just do fun link-ups in the meantime. :) I should hopefully be back to regular blogging next week!
Dear Rascal Flatts
: So excited to see you this weekend! The girls and I are taking a road trip to
tailgate and party the night away
see you and we couldn't be more excited! Life gets so crazy, so thank you for being a reason for us to get together!
Dear Ra
: You're the best horse and we all love you and are praying for your full recovery. Keep holding on, we're not ready to say goodbye yet!
Dear New Car:
You're going to look sexy in my driveway. Hurry here.
Dear Orgo 1
: I'm finished with you on Monday!! You thought you could break me, but you
hopefully
can't. I definitely thought our last day together was yesterday, and really should not be going away this weekend, but a girl's gotta do what a girl's gotta do! And yes, I see you over there and yes, I will come study in a minute.
Dear Nutella and peanut butter sandwiches:
You are delicious. I had you for dinner twice in a row this week, which means I am 5 and also completely out of food.
Aaaand that's all for now! I'm going to keep being a bad blogger and keep this short and sweet so I can kick my Organic Chem final's butt. Next week will be full of fun pictures from a wild a fun summer weekend! Final? What final? Have a wonderful weekend!