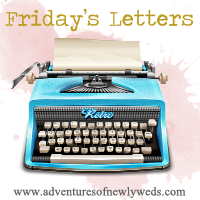 Dear Syracuse: Rumor has it you're going to be sunny and low 80s for the next week! I really hope the rumors are true because 72 and rainy just isn't cutting it for me.
Dear Mama: This is been such a fun week! I love coming over every night to make some of the recipes I've pinned. Tonight is chicken fried steak, aka my favorite food ever that I can never eat since it's not gluten free (and sooo bad for you. But that's what makes it so delicious!). We're going to have to get creative but I'm excited.
Dear Revenge: You. Are. Amazing. Even more the second time around! So happy I convinced my mom to start watching...we plan to watch the whole season before our Hulu free trial runs out. Ha!
Dear Daryl (brother): Break a leg in La Cage this weekend! I know you're nervous since it's your first lead role but it will be AWESOME. See ya tomorrow!
Dear Dad: I am so jealous you've been in NYC all week and got to see 3 shows without me :(. But I'm excited for Father's day and you get your own post on Monday!
Dear Rock of Ages: I'm so scared to see you! I LOVE the show, and I'm scared this won't be as good. However, your cast is pretty awesome, so I'm optimistic!
Dear Dom: 3 weeks until your MCAT! Keep plugging, love.
Dear Eyeballs: Get ready to SEE! No more glasses or contacts, you'll be on your own in 3 weeks! LASIK will be my new best friend.
Dear Readers: You make me SO happy, I'll never be able to tell you enough! Every reader and every comment warms my soul. You are the best :)