Sunday Social: Food edition!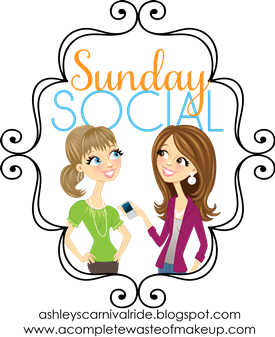 If you could only eat one thing for the rest of your life, what would it be?
Those poofy pretzel bites you can get at the movie theater that you dip in that fake nacho cheese. AH. My mouth is watering just thinking about them! True story: When I was at the end of my stomach tests and knew the doctor was going to tell me I had to stop eating gluten my mom brought me to the movie theater so I could get them one more time. They still made me sick, but it was a last hoorah of sorts and I still dream about them!
What's your guilty pleasure/comfort food?
Good 'ole macaroni and cheese. There are some very decent gluten free brands and it always cheers me up, just like when I was little!
What's the weirdest/craziest thing you've ever eaten?
KANGAROO.
I was in Australia when I was 11 and my brother fed it to me and told it me was chicken. Traumatized is the only word to describe how I felt once I discovered the truth. It does, however, taste exactly like salty chicken.
What foods do you avoid at all costs?
Gluten, apples, pears, plums, peaches, melon, almonds, pecans, carrots, green beans, cheery tomatoes, coffee, and peppers. I'm allergic to all of the above :( However, I also STRONGLY dislike red and green peppers so even if I weren't allergic I would avoid them at all cost! Otherwise I am not a picky eater at all, I will eat anything if I'm not allergic to it!
What meal reminds you of your childhood?
Seafood Paella.
My father is Puerto Rican so he would always make it growing up and now it's my specialty as well. My father also LOVES cooking with garlic so whenever I eat something smothered in garlic it reminds me of home :)
Share one of your favorite recipes and the story behind it.
This chicken salad recipe is delicious and easy! It's my favorite recipe because it is the first recipe my roommate and best friend from college and I tried to make together and it became our ritual before every finals season. Then, I made it for my boyfriend and he absolutely loves it! He used to request it whenever I would fly up to visit him and soon his fraternity brothers would request it too! There's really nothing wild or crazy about it, it is just plain delicious. I hope you try it and like it as much as we do.
Ingredients
•
4 cups diced poached chicken
•
1 stalk celery, cut into 1/4-inch dice
•
1/4 cup sweet onion cut into 1/4-inch dice
•
Bunch of sliced red grapes (I use lots because I love them :))
•
1 1/2 teaspoons finely chopped fresh tarragon or fresh dill
•
2 tablespoons finely chopped parsley
•
1 cup prepared or homemade mayonnaise
•
2 teaspoons strained freshly squeezed lemon juice
•
1 teaspoon Dijon mustard
•
2 teaspoons kosher salt
Freshly ground black pepper
Directions
In a mixing bowl, toss together the chicken, celery, grapes and herbs. Set aside. In a small bowl, whisk together the mayonnaise, lemon juice, mustard, salt and pepper to taste. Add to the chicken and mix gently until combined. Refrigerate until ready to serve.
Note: If you let it refrigerate for at least an hour before trying, the flavors mix and it tastes even better!