I love when I can't think of anything to post about and then remember there's a link up I have been meaning to join for a long time!
I'm finally joining Tiffany and Lauren's Tuesday Topics Link Up! This week is 3 pieces of jewelry.
Bring on the sparkle!
First is my all time favorite piece of jewelry
(obviously tied with anything Dom has given me, 'cause I'm sentimental like that)
This beauty is the
David Yurman
Albion ring my parents got me for my college graduation! It's so pink, and so sparkly...basically so me! My hand has never been the same since I slid this baby on it. :)
Second, a necklace I am dying to have!
Love me some Tiffany's and anchors.
Could
this
be any more perfect?
And third, something I think every girl can't live without...
A cutout monogram necklace!
I'm holding out till I'm married so I can wear it forever. :)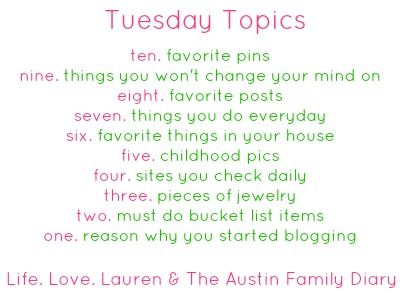 ***
On a totally separate topic (haha. I'm hilarious), I want to introduce you to Kiersten from
Good Day Sunshine!
Kiersten is an incredible writer. I know you might think that should be a given in blog land, but she's a different kind of writer. I like to write to remember things, and maybe get a laugh or two. Kiersten is one of those writers who can make you feel, think, and get goosebumps with
only a few sentences.
Her
letters to a love
series puts every feeling a single girl feels into heartfelt and sincere letters which, if you're anything like me, will make you want to run out and find the perfect man and place him on her doorstep. Until then, Kiersten shares her
reasons to smile
every week. A girl with that outlook on like is one you should really get to know. :)
BLOG / TWITTER