It's true. I am a loud and proud sister of Sigma Kappa Sorority!
As if my love of Lilly Pulitzer, wine and pink weren't big enough hints. ;)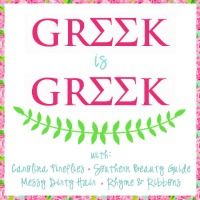 I know we sometimes get a bad reputation, but I can not imagine what college would have been like if I hadn't joined my sorority.
I know I would have never survived my freshman year without my beautiful and amazing Big Sister, Rachel.
my
little...and grand little! (not to mention my great grand little who is just too amazing for words as well!)
Past all the love and snuggles, there were the parties. Going to school in DC, being Greek really made the school seem smaller, and there was
always
something fun going on!
My favorite party Sigma Kappa did was My Tie.
hilarious
stories, and at least one marriage!
My second favorite was Tacky Prom. This one is pretty self explanatory.
Don't judge me, k?
And then there are the formals. :)
Oh, and the Bid Day Booze cruise...
Needless to say, I made a ton of fun memories in my four years as a Sigma Kappa! But, all partying aside, so many fun memories revolve around the "Senior Prom" we threw every year for the nursing home in our area, waking up at the crack of dawn to walk the Memory Walk with thousands of others on the National Mall to support Alzheimer's research, and all the fundraisers we did as a chapter, and with other chapters, to raise tens of thousands of dollars for charity. There's something about setting a goal and reaching it as a group that really bonds you for life!
I truly mean it when I say I couldn't have made it without these ladies. I will forever lead my life as a Sigma Kappa, one heart, one way. <3